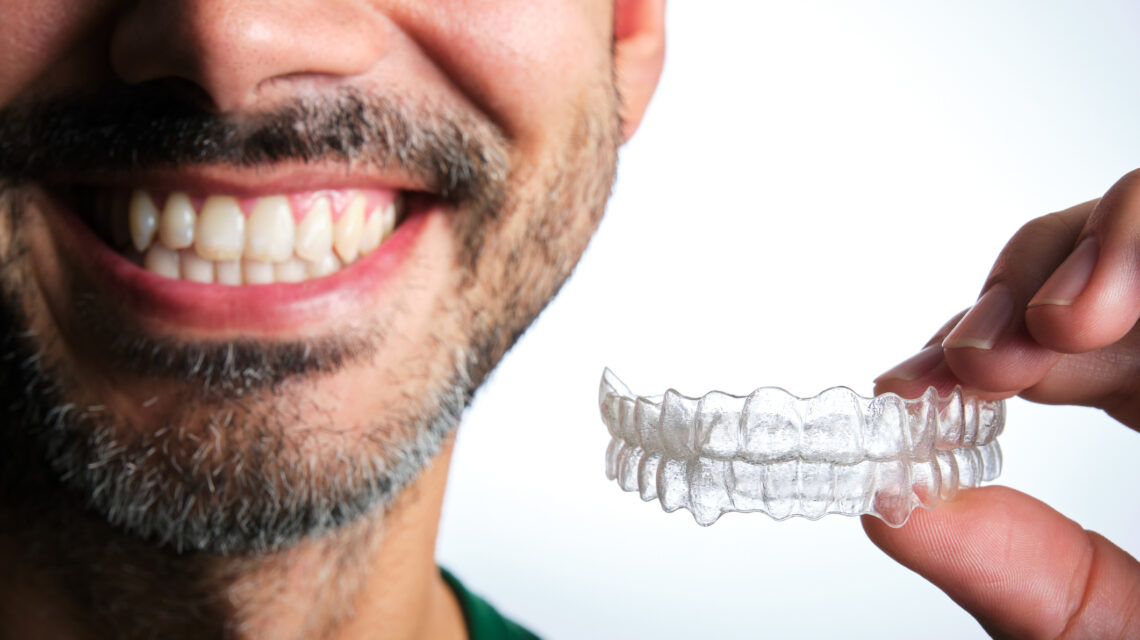 Teeth grinding, also called bruxism, is often viewed as a harmless, though annoying, habit. Some people develop bruxism from an inability to deal with stress or anxiety.
However, teeth grinding can literally transform your bite relationship and worse, severely damage your teeth and jaws over long periods of time.
Teeth grinding can cause abrasion to the chewing surfaces of your teeth. This abnormal wear and tear will prematurely age and loosen your teeth, and open them to problems such as hypersensitivity (from the small cracks that form, exposing your dentin). Bruxism can also lead to chronic jaw and facial pain, as well as headaches.
If no one has told you that you grind your teeth, here are a few clues that you may suffer from bruxism:
Your jaw is often sore, or you hear popping sounds when you open and close your mouth.

Your teeth look abnormally short or worn down.

You notice small dents in your tongue.
Bruxism is somewhat treatable. A common therapy involves use of a special appliance worn while sleeping. Less intrusive, though just as effective methods could involve biofeedback, and behavior modification, such as tongue exercises and learning how to properly align your tongue, teeth and lips.
People who grind their teeth can sometimes develop a serious problem with their jaw, which left untreated, can adversely affect the teeth, gums and bone structures of the mouth. One of the most common jaw disorders is related to a problem with the temporomandibular joint, the joint that connects your lower jaw to your skull, and allows your upper and lower jaw to open and close and facilitates chewing and speaking.
People with temporomandibular joint disorders (TMD) often have a clicking or popping sound when opening and closing their mouths. Such disorders are often accompanied by frequent headaches, neck aches, and in some cases, tooth sensitivity.
Some treatments for TMD include muscle relaxants, aspirin, biofeedback, or wearing a small plastic appliance in the mouth during sleep.
Minor cases of TMD involve discomfort or pain in the jaw muscles. More serious conditions involve improperly aligned joints or dislocated jaws. The most extreme form of TMD involves an arthritic condition of the jaw joint. Traumatic injuries also can cause jaw dislocation.
In these cases, jaw surgery may be required to correct the condition. Some jaw surgery can be performed arthroscopically.
Anyone who participates in a sport with a significant risk of injury should wear a mouth protector. Sports like basketball, baseball, gymnastics, and volleyball all pose risks to your gum tissues, as well as your teeth. We usually think of football and hockey as the most dangerous to the teeth, but nearly half of sports-related mouth injuries occur in basketball and baseball.
Besides wearing a helmet that can prevent serious injuries caused by the lower jaw getting jammed into the upper jaw, mouth guards are also effective in protecting soft tissue of the mouth from damage and preventing laceration and bruising of the lips and cheeks.
Mouth protectors, which typically cover the upper teeth, can cushion a blow to the face, minimizing the risk of broken teeth and injuries to the soft tissues of the mouth. If you wear braces or another fixed dental appliance on your lower jaw, a mouth protector is available for these teeth as well.
A properly fitted mouth protector may be especially important for people who wear braces or have fixed bridge work. A blow to the face could damage the brackets or other fixed orthodontic appliances. A mouth protector also provides a barrier between the braces and your cheek or lips, limiting the risk of soft tissue injuries. Although mouth protectors typically only cover the upper teeth, your dentist or orthodontist may suggest that you use a mouth protector on the lower teeth if you have braces on these teeth too. If you have a retainer or other removable appliance, do not wear it during any contact sports.
Types of Mouth Guards
There are three types of mouth protectors:
Stock

– Inexpensive and come pre-formed, ready to wear. Unfortunately, they often don't fit very well. They can be bulky and can make breathing and talking difficult.
Boil and bite

– Can be bought at many sporting goods stores and may offer a better fit than stock mouth protectors. They should be softened in water, then inserted and allowed to adapt to the shape of your mouth. If you don't follow the directions carefully you can wind up with a poor-fitting mouth protector.
Custom-fitted

– Made by your dentist for you personally. They are more expensive than the other versions, but because they are customized, they can offer a better fit than anything you can buy off the shelf.
When facial reconstruction, including procedures involving the oral cavity, is called for, a specialist is needed. Surgical procedures of the neck and head area are performed by a maxillofacial surgeon.
Common maxillofacial procedures include denture-related procedures and jaw surgery.
Jaw Correction
Protruding chins, crooked or buck teeth or misaligned teeth are good candidates for maxillofacial surgery.
In some people, jaws do not grow at the same rate; one may come in larger than the other, or simply not be aligned properly with other bony structures in the skull. This can cause problems other than appearance issues; an improperly aligned jaw can cause problems with the tongue and lips, and speech and chewing problems as well. Jaw surgery can move jaws into their proper place.
Other kinds of maxillofacial surgery can correct problems with upper facial features such as the nose and cheek.
In addition to correcting jaw problems surgically, orthodontic appliances such as braces may be needed to restore bite relationship and ensure continued proper alignment of the jaw. In some cases, tiny wires or small rubber bands may be needed to keep the jaws in place and promote faster healing. In other cases, small "fixation" screws or plates may need to be inserted in the jaws to facilitate easy movement of the jaws following surgery.